FWA is extremely proud to give continued support to Missing People – the only charity in the UK which is dedicated to bringing missing children and adults back together with their families.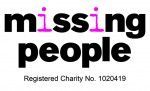 It has been an incredible few months for the charity, including their recent performance on Britiain's Got Talent!
The Missing People Choir made the Britain's Got Talent final – featuring families with missing loved ones, supporters, volunteers and staff from the charity, the Choir's moving appearance also highlighted those still missing projected on screen.
One father and choir member said: "It's not about us winning, it's about raising awareness of the charity. My hope is that we are going to reunite families."
It looks like their wish is coming true, as a 13-year-old missing child who they appealed for on the show during the Choir's final performance saw their photo and called their mum. They are now home safe and well. You can see the Choir's performance in the final here.
Please click here for more news updates from Missing People.