We are pleased to bring you FWA's next spotlight feature.  We have worked closely with many NQ Solicitors over the years' in helping to secure them an NQ position, as well as offering general support on the recruitment process.  Therefore, we thought it would be helpful to share some past candidates experience of their traineeship and NQ position.
Meet our next FWA Spotlight Candidate, Nadia Cook, who trained at Digby Brown Solicitors.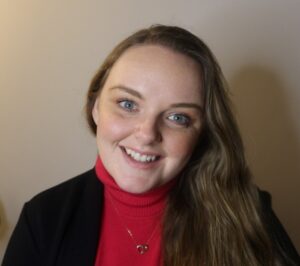 Did you enjoy your traineeship?                
Yes, I certainly did, I had a fantastic trainee experience with some excellent mentors. I feel my traineeship set me up well for life as a lawyer, and I learned a lot during my two years.
What areas of law did you experience in your traineeship?
Mainly Personal Injury and Civil Litigation, however, I was also provided the opportunity to take part in a secondment to the UK Law Societies Brussels Office for 2 months.
What was the most challenging part of your traineeship?
Keeping track of court deadlines and timetables, moving to a new office in my second year and making the adjustment and working from home in lockdown for the last approx. 6 months of my traineeship.
What do you do now as an NQ?
I took a more 'unconventional' path and decided after my traineeship to study a full-time LLM in Law and Economics via Erasmus University. I spent 3 semesters in three different countries: Germany, Belgium and Spain. I then began to look for NQ roles whilst I was in my final semester and in the process of writing my dissertation.
I secured an NQ role at DAC Beachcroft as a travel & tourism solicitor, and this role also involved some business development from a Scottish angle.
I then secured a contracted 6-month post (with the assistance of FWA) at the UK Government in the Office of Advocate General. I learned a lot about the differences between private practice and in-house legal in this role.
I am now a Business Development Solicitor at Harper Macleod.
Why did you choose to specialise in this area?
I now work as a Business Development Solicitor. My role really matches with everything I love and my personality, therefore, I do not feel like I am at work because I enjoy all the projects and day-to-day work that I am involved in. It was important for me that the working role I secured for the future allowed me to feel supported, valued and driven – my current role now ticks all of these boxes.
How did you find the process of finding an NQ position?
It was what I expected for the way the economy was at the time; we were just beginning to get back to a more 'normal' work life and the country was in recovery, therefore, I was realistic about what the job market might look like.
The application process was as I expected, though I did underestimate how many employers would ask for you to do a presentation at a second stage/final interview so it's important to be prepared for this I would say.
If you could give one interview tip for finding an NQ role, what would it be?
Sorry, I found it too difficult to just give one, so have four:
Be Specific – Don't just send your CV out everywhere and anywhere and for anything – Less is more. Take time to really consider what area you would like to work in, the NQ stage is your chance to decide where you would like to be/specialise in the future.
Be patient and kind to yourself – the NQ process can be similar to the traineeship application process at times. You will face rejection much like you did for vacation schemes and traineeship applications, however, what you learn from the rejection is key to your future success.
Be Realistic – Ask yourself: is this really the area that I want to work in? Can I see myself being in this role long-term or for at least for the next 2-3 years?
Be Seen – make a personal brand for yourself, expand on your network, and build contacts in the area you wish to practice in and wider.
What did you enjoy most about your NQ role?
I enjoyed the challenges and adjusting to the differences of working in an international law firm, as I trained in a medium sized firm. I also found benefit in learning from 'the other side' and from a different point of view because I trained in pursuer litigation and then decided to take an NQ role in defender litigation. I also enjoyed the more complex travel element of my role and that I was provided the opportunity to work with an England based team as a Scottish Solicitor.
I hope you found my insights above useful, please do feel free to reach out and connect with me on LinkedIn and/or Instagram.
Nadia is a Business Development Solicitor at Harper Macleod LLP, a law firm in Scotland. * She is a social mobility advocate and uses her platform www.thescottishlawyer,info to encourage openness and transparency in the profession. She aims to create a more diverse and inclusive culture in the legal sector for students, and the future generations of aspiring legal professionals.
You can connect with her via LinkedIn here and follow her latest insights at @thescottishlawyer, Instagram page. Please feel free to reach out to her, and she will happily answer any questions or comments that you may have.
*All views are my own unless otherwise stated, and do not represent the views of any firm/business, which I am affiliated with. Information provided in this article does not constitute as legal advice.
I hope you have found this Soundbite useful.  See our dedicated NQ Outlook™ Career Centre for more information on positions and career advice.  https://www.frasiawright.com/nq-career-centre/