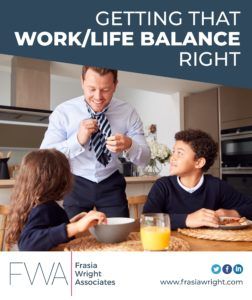 For most, the start of a new year brings a period of reflection of the last 12 months and what the new year will bring; and for many the key question here is "Am I getting the right work/life balance?".
To everyone this can mean something different, depending on their own aspirations and demands in their professional and personal life. Questions to ask yourself:
• What is important to you?
• How can you achieve that balance?
• When is the right time to seek it out?
Unfortunately, there are no right or wrong answers; you need to be clear in your own mind about what it means to you and possibly seek advice from family, friends, colleagues and your recruitment consultant. Whatever your approach, remember it's a life change that you are making, so it's worth it and while it won't happen overnight, with some careful consideration and planning, it can happen.
If you are considering making your next move; do not hesitate to get in touch on 01294 850501 for a confidential discussion.